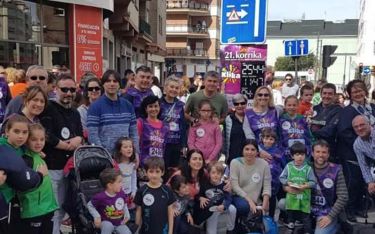 RPK Group participates in 21 Korrika
RPK Joined Araski Basketball team for "21 Korrika"
The race for Basque language finished in Vitoria-Gasteiz on Sunday, 14th April.
Once again, RPK, together with the women's basketball team Araski, took part in one kilometre out of 2,562 ran by thousands of euskaldunes (Basques) for two weeks.
What is KORRIKA?
Korrika is a race for the Basque language. It is organized by AEK and goes round Euskal Herria, the Basque Country, as a whole. The race has a double goal. On the one hand, it pursues awareness for Basque language; on the other hand, it fundraises for AEK Basque learning centres.
The first Korrika was held in 1980, running from Oñati until Bilbao. Since then, Korrika has become one of the main pro-Basque events in terms of people brought together. During the last 39 years, 21 editions of Korrika have been held. On 30th March, 2017 a new one began, where hundreds of thousands of people participated regardless their ages and condition running for Basque more than 2,000 kilometres non-stop, during 11 days.
Along the race, runners take a baton changing hands every kilometre. The baton carries a secret message inside, disclosed when it is read at the end of the race.