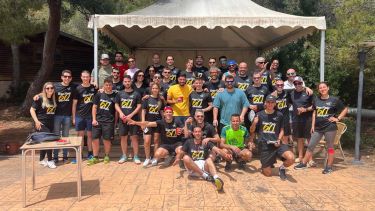 RPK Tarragona celebrates 60 Years of excellence in stamping
A remarkable anniversary gathering featuring paddle tennis, fideuá, and togetherness!
Our RPK Group plant in Tarragona, RPK Metal Forming, is celebrating a significant milestone this year as it turns 60, and we're commemorating it in grand style. Our team gathered to celebrate the event with an exciting paddle tennis tournament before partaking in a heavenly fideuá, a traditional Mediterranean meal. The musical backdrop after lunch created a relaxed and enjoyable atmosphere, making the post-meal gathering a pleasure for all. We had an absolute blast!
Founded in 1963, RPK Tarragona Metal Forming joined the RPK Group in 2006 as part of our expansion strategy. In 2010 we further enhanced our capabilities by acquiring Bardaji, integrating their expertise in stamp+bend strip forming into RPK Tarragona. With 60 years of experience in stamping, we proudly offer a guarantee of success.
This remarkable anniversary is a testament to our dedication and commitment to providing high-quality solutions. We express our deepest gratitude to the team and loyal clients who have helped us to achieve our success. Here's to many more years of excellence and innovation!